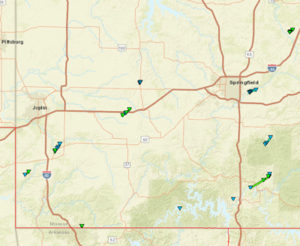 If you have ever lived in a part of the world where the weather is mundane day in and day out, it might be hard to imagine how quickly things can change here in Southwest Missouri. Take Southern California for example where the television weather folks are often out-of-work comedians and actors desperate for a gig. They can seemingly record a TV weather segment and replay it over and over for weeks at a time with total accuracy.
Not here. The year isn't even half over, and there's probably a lot of new ink in the record books for 2017. It's not known at this time where the May 19th through May 20th severe weather event will rank compared to past happenings. However, it will certainly be one to remember – at least for a while – with a total of 16 tornadoes confirmed throughout the Springfield, Missouri County Warning Area in only 27 hours along with a bit of irony.
Fortunately the tornadoes which impacted the area were the spin-up type. As compared to the devastating twisters which drop down from supercell thunderstorms, these types of tornadoes are much weaker, smaller, and short-lived. According to the National Weather Service Forecast Office in Springfield, Missouri, this latest batch of tornadoes were the result of several waves pivoting around an upper level storm system as it moved eastward across the central Rocky Mountains. It was those waves, in conjunction with a stationary surface front extending from central Illinois across central Missouri and into south-central Kansas along with a very warm, moist, and unstable air mass that fired off the thunderstorms and the tornadoes.
The average estimated speed of these tornadoes was 87 miles per hour. Interestingly, the strongest and the weakest of these tornadoes happened within a few miles and a few minutes of each other near the Branson area in Taney County, Missouri. The strongest tornado, an EF-1 with estimated winds of 100 miles per hour, hit the Rockaway Beach area along Lake Taneycomo at about 1:30 a.m. on Friday, May 19th. It traveled nearly 9 miles toppling trees and knocking out power all the way to Taneyville. Meanwhile, the weakest tornado of the bunch hit just two minutes earlier in the heart of the Branson Strip. This tornado, a weak EF-0 with estimated winds of around 75 miles per hour, hit the Tanger Outlet Mall and a nearby hotel. Ironically, it was this tornado, the weakest of the cluster, which caused the only report of injuries of this entire event.
We thank Jim, N0UAM of Southwest Missouri Regional Skywarn, along with all of their spotters for their help tracking the severe weather during this marathon event. For a complete list of the confirmed tornadoes from the May 19th through May 20th event along with track maps, please click here.