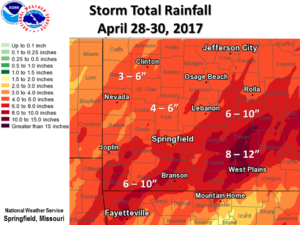 Historic flooding continues following a powerful storm system which brought torrential rainfall to the Missouri Ozarks and southeastern Kansas from Friday night, April 28 through Sunday, April 30. Widespread damage, fatalities, and historic flooding have resulted. According to reports from the National Weather Service Forecast Office in Springfield, Missouri, storm total rainfall amounts generally ranged from 4 to 8 inches with some areas of far southern and south central Missouri receiving from 10 to around 12 inches. Numerous roads, bridges and buildings were destroyed. Many roads were flooded through the event including state highways and Interstate 44. Several rivers continue reaching major and historic levels.
Here's a play-by-play of how the event unfolded as told by the folks at the NWS Springfield: On Friday afternoon, April 28th, a stationary front that extended from southeast Missouri across west central Arkansas into south central Oklahoma began moving northward as a warm front. As an upper level system moved out of the southern Rockies, moisture from the Gulf of Mexico began to get pulled northward up and over the stationary front. By Saturday afternoon, the warm front had moved as far north as Interstate 44. As a series of surface lows moved northeastward along the front, it brought with it waves of showers and thunderstorms that brought continuous heavy rainfall across the same area during the day on Saturday. As the warm front continued to move northward on Sunday, the cold front swept in behind it from the west bringing an end to the rainfall.
This event is far from over. Water levels continue to rise from continuous runoff from this past storm. Additionally, another storm is looming and is expected to bring anywhere from 2 to 3 1/2 inches of rain throughout our County Warning Area starting tonight and lasting into early Thursday.
Flash Flood Watches are already in effect. If you live in a flood-prone area, do not wait for a warning to be issued if you observe water rising. Remain weather aware, and be proactive.