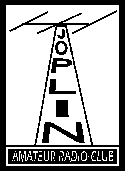 * Update: We have received a notice from MTC Radio that they will not be attending the Joplin Hamfest this year.
Arguably the best and certainly the biggest hamfest in Southwest Missouri takes place next weekend in Joplin. The Joplin Hamfest, sponsored by the Joplin Amateur Radio Club, will draw in hundreds (or even thousands) of people from all over Missouri and surrounding states. Commercial vendors such as Icom America, *MTC Radio, WB0W, and many more will join dozens of private sellers this year. Southwest Missouri Regional Skywarn will have a couple of tables this year at the Joplin Hamfest. They will be near the front close to the A.R.R.L., and they would love for you to stop by and say hello. There will be some used equipment for sale at their tables. Please note that all proceeds from the sale of this equipment will go directly toward supporting their linked repeater network. They will also have a donation jar at their tables, and all contributions are appreciated.
This year's Joplin Hamfest starts at 8 a.m. on Saturday, August 26th and ends around 3 p.m. Entry tickets cost $10 at the door. Advanced online ticket purchases are $8 per person and can be made until Friday, August 25th.
Marvin, NA0OO, reports that the Joplin Amateur Radio Club is considering going back to a two-day Friday and Saturday format for future hamfests. Club officials have created an online survey, and they would like for you to let them know your thoughts on this idea. You can click here to cast your vote. You do not need to be a member of the Joplin Amateur Radio Club to vote.
The Joplin Hamfest will take place at the Joplin Convention & Trade Center in Joplin, Missouri. Take I-44 to Exit 8 which is Rangeline Road. Go north for about 500 feet, and turn right onto Hammons Blvd. Pass Olive Garden and Sam's Club, and the location will be straight ahead – you can't miss it. You can use the interactive Google Map below to help. For more information, visit the Joplin Hamfest website at: www.joplinhamfest.org