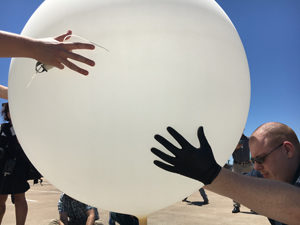 Not surprisingly, a total solar eclipse that occurs during midday does indeed affect the weather. If you are a Twitter user, please follow Southwest Missouri Regional Skywarn on Twitter @SWMOwx (if you don't already). They will try to broadcast live video from the center of the path of totality on Monday if mobile data service allows. It is possible that the mobile data networks will be overloaded during this event, so, if they are unable to send out live video updates, you can watch them after the fact on their forthcoming YouTube Channel. Click here to subscribe to it.
The National Weather Service plans several weather balloon launches before, during, and after the passage of the moon's shadow to measure the effects of the midday darkness at various levels of our atmosphere. Skywarn spotters plan to chart the changes in temperature on the ground at their location both in direct sunlight and in the shade as the eclipse progresses. They will also note any changes in the wind and in the behavior of any nearby animals such as birds and bats as well as bugs such as crickets and katydids.
Whether you watch their Twitter Live video streams or watch the archive on YouTube, you'll get to see what these spotters observe during this event. Thank you for watching.
And if you have any notes, photos, and/or videos you would like to share with Southwest Missouri Regional Skywarn, please send them to: webmaster@n0nws.com