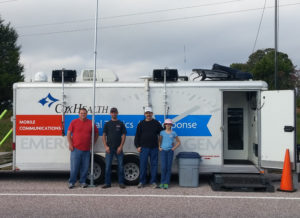 The Cox Ham Radio task force and the Republic Repeater Group invites you to the 2017 Winter Field Day on Saturday, January 28, 2017, beginning at 8:00 a.m.  The turn out and amount of interest will determine how long they will stay operational throughout the day.
The group will be operating out of the Cox Mobile Command Unit.  It will be located at the Republic Repeater tower site which is on Harrison Street just east of the Republic Post Office.  (See the interactive map below)
Recently, this Cox Mobile Command Unit was presented with a $2,500 improvement grant.  Two important upgrades were made including improvements to the current 2 meter set up and the HF capabilities which they will be testing out during Winter Field Day.
"We are very proud of our new Mobile Unit, and would enjoy showing it to all hams who can visit!  Stop by to take your turn at the controls, or to even just say hi!" says Brian, K0ATZ.  Brian will serve as the contact person for this event.  If you have any questions, you can email him at wirenut1212@yahoo.com
You can use the Republic Repeater for talk-in purposes.  That repeater is on 146.820 MHz. with a minus offset and a PL of 162.2 Hz.
More information about Winter Field Day can be found at www.winterfieldday.com