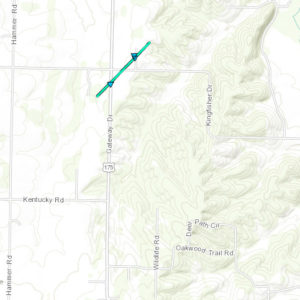 The National Weather Service in Springfield, Missouri is confirming that an EF-0 tornado touched down nothwest of Neosho in Newton County during the early morning severe weather event of Thursday, May 11, 2017. The 100-yard-wide tornado touched down near the intersection of Gateway Drive and Jute Road uprooting several trees and causing minor damage to several roofs and damaging or destroying several outbuildings. Surveyors say the tornado hit at 12:34 a.m. Central Time and only stayed on the ground for one mile. Peak winds are estimated at 85 miles per hour. No injuries or fatalities were reported.
Forecasters say this first wave of severe weather on May 11th was caused when a surface front, initially across northern Missouri, moved slowly southward as an upper level low over the southern Rockies made its way eastward into the Central Plains.  This surface front then stalled as it approached the Missouri-Arkansas border.  A very moist and unstable air mass south of the front set off several rounds of severe weather.  It was this first round early in the morning of May 11th which spawned the tornado.
Later rounds of severe weather during the mid morning and afternoon hours garnered several reports of strong winds and hail up to the size of golf balls throughout our County Warning Area southward into northern Arkansas.
So far there are no confirmed reports of a tornado resulting from a tornado-warned storm which set off warnings in Lawrence, Christian, and Greene Counties late Thursday afternoon. You can find more information on the May 11, 2017 severe weather event from the National Weather Service in Springfield, Missouri by clicking here.