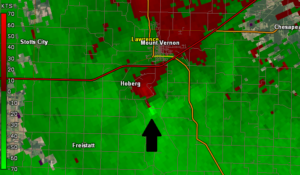 The National Weather Service in Springfield, Missouri is confirming that a brief EF-1 tornado touched down Sunday night near Mount Vernon and Hoberg, Missouri. The NWS storm survey reports the tornado hit about two miles southeast of Hoberg at about 8:04 p.m. and traveled for about one and a half miles on the ground. It was approximately 75 yards wide and had peak winds of nearly 95 miles per hour. Surveyors say four outbuildings, an irrigation system, two ski boats, and numerous trees were destroyed. Other minor damage occurred to a house and a larger outbuilding. No injuries were reported.
Above left is a Doppler radar image showing relative wind velocities at the time the tornado touched down. The area with bright green next to dark red indicates the rotation
The National Weather Service says the tornado was spawned "when a strong spring-like upper level and slightly negative tilted trough moved across the Ozarks region Sunday evening. The atmospheric environment was highly sheared with low instability."
Below is a map of the tornado's path. For more details including photos of damage caused by the tornado, click here.