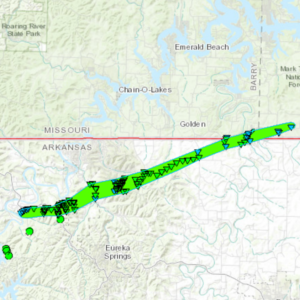 Storm survey crews from both the National Weather Service in Little Rock, Arkansas and the National Weather Service in Springfield, Missouri are confirming an EF-1 tornado which they say formed last week in Northwest Arkansas and skinned Barry and Stone Counties before dissipating. The tornado formed when a line of strong to severe thunderstorms moved from eastern Oklahoma into northwest Arkansas and southwest Missouri during the late night hours of Tuesday, April 25, 2017.
Shortly after 1 a.m. on Wednesday, April 26th, the line of storms developed a bowing segment as it was approaching the Arkansas/Missouri state line. An embedded circulation produced an EF-1 tornado that touched down in Carroll County, AR at 1:22 a.m. The tornado spent most of its time on the ground in Carroll County, AR before barely clipping the far southeastern corner of Barry County, MO at approximately 1:34 a.m where it was estimated to be about 1,000 yards wide. One minute later the tornado exited Barry County after leaving a path less than a mile long. It entered Stone County, MO where it maintained its estimated width of 1,000 yards while traveling for about 2 miles before dissipating at 1:38 a.m.
The total path length for the tornado in both Arkansas and Missouri was 16 miles. The majority of the EF-1 damage occurred in Arkansas where the tornado reached a maximum width of 1,500 yards.
The tornado produced a lot of tree damage, but no damage to structures, homes or other properties is being reported. There were no injuries or fatalities.