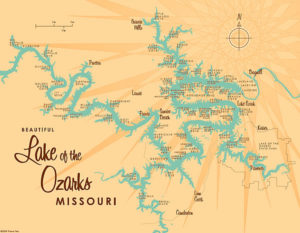 Southwest Missouri Regional Skywarn will soon have better repeater coverage for severe weather spotters throughout the Lake of the Ozarks area. N0NWS Repeater trustee Mike N0NQW says the KA0RFO Repeater located in Laurie, Missouri – in far southern Morgan County – will soon begin linking in during our Tuesday evening Skywarn Training Nets and during severe weather outbreaks. The KA0RFO repeater transmits on a frequency of 146.955 MHz. with a standard minus ( – ) offset and a CTCSS tone of 192.8 Hz.
A community service of  broadcast radio station KRMS along with the Camden County, Missouri Emergency Management Office, the KA0RFO Repeater is located atop a 500-foot-tall tower and provides very wide-area coverage reaching as far north as Jefferson City!
Southwest Missouri Regional Skywarn will announce when the new link equipment is installed. Once operable, this repeater will be an invaluable tool as it fills in most of the coverage gaps in our County Warning Area's northeastern counties between the Buffalo, MO repeater and the Rolla and Dixon repeaters.
You can view the predicted coverage contour of the Laurie, MO repeater on the Southwest Missouri Regional Skywarn Repeater Coverage Map. You can deselect all checkboxes to only display the coverage of the 146.955 repeater so that you can see just how much this new link will help our spotters during severe weather and training nets.
Southwest Missouri Regional Skywarn is offering special thanks to Camden County, Missouri Emergency Management Agency Communications Officer Ernie W0LTC for all of his efforts in helping to make this new link possible. We look forward to hearing check-in's on Tuesday evening from folks in our northeastern counties.