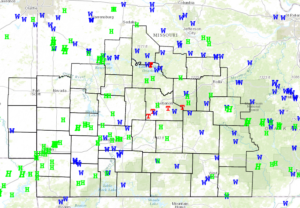 The National Weather Service in Springfield, Missouri confirms that five tornadoes touched down within our County Warning Area during the afternoon hours of Saturday, May 27, 2017 disrupting Skywarn coverage in the process. All five tornadoes were rated at EF-1 and had estimated winds of 90 miles per hour. They occurred within a one-hour span starting at 2:38 p.m. Central Time near Lake of the Ozarks with the final confirmed tornado hitting at 3:25 p.m. near Fort Leonard Wood. No injuries were reported with these tornadoes. Of direct interest to Skywarn: the tornadoes near Lake of the Ozarks knocked out power to a Southwest Missouri Regional Skywarn affiliate repeater in Laurie, Missouri on 146.955 MHz. This outage lasted for around 2 days and also disrupted service to three major cellular telephone companies as well as broadcast radio station KRMS AM & FM.
As the final tornado in this timeline was touching down at Fort Leonard Wood, things became interesting when the situation seemed to transition into a significant straight-line wind damage event that was around 50 miles long! Storm survey crews say this destructive swath of wind started in far southeastern Laclede County. It then continued across northern Texas County, southern Pulaski County, southern Phelps County, western Dent County, and ended in central Dent County. Reports say areas of large trees were uprooted or snapped off. Utility lines and poles were blown down or hit by falling trees alo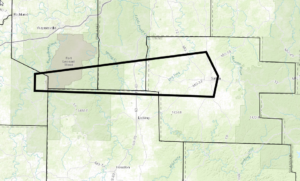 ng most of this event's path. The hardest hit areas with more concentrated damage, including structural damage, were the communities of Edger Springs, Salem, and along portions of Highway 17. Both communities experienced minor to major damage to homes, businesses, and outbuildings. In one instance, the metal roof and main structure of a church gym in Salem was crushed downward which indicated a downburst wind up to nearly 100 m.p.h. Reports of vehicle, roof, and window damage were numerous across these communities. Some rural communities such as north of Evening Shade, Palace, Big Piney, and along Highway H sustained some structural damage with numerous trees falling on vehicles and roofs. Several outbuildings were severely damaged or destroyed. Some additional highways like Highway 63, Highway C, Highway DD, Highway 72, Highway 68, Highway 19, and Highway 32 were impacted by these intense straight line winds. Servey crews say that based on the damage from this event, wind speeds of 80 to 95 miles per hour were common along with several areas of downburst winds that possibly reached up to 100 m.p.h.
Forecasters with the National Weather Service Forecast Office in Springfield say this severe weather outbreak was the result of extreme amounts of instability in the atmosphere combined with strong wind shear which created a volatile atmosphere. The results were the multiple thunderstorm line segments which produced the spin-up tornadoes and the destructive straight-line winds. Additionally, supercell thunderstorms also developed and were responsible for the very large hail. There were numerous reports of hail between 1 and 2 inches in diameter throughout our County Warning Area with one report of injuries near Carthage, Missouri due to the hail shattering a vehicle's windshield. Meanwhile, just north of our C.W.A. in Adrian, Missouri, there were reports of grapefruit-sized hail which caused significant damage!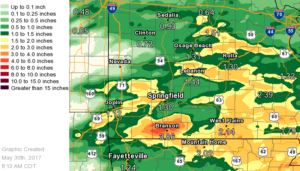 As the storms congealed into a west-to-east oriented line, torrential rainfall resulted in deadly flash flooding. Forecasters say the heaviest rainfall occurred in the Branson, Missouri area where 3 to 6 inches of rain fell in about a three hour stretch. This resulted in significant flash flooding of local creeks including Fall Creek, Cooper Creek, and Roark Creek. Multiple businesses and the Branson Campground were flooded as these creeks rose out of their banks. Several water rescues were conducted near these creeks as water rose quickly. Fall Creek reportedly rose as much as 14 feet in just 15 minutes! Sadly three people in Branson, Missouri died after their vehicle was swept away at a low water crossing along Fall Creek Road.
For details about this deadly severe weather outbreak including tornado track maps, please click here.